A little over a month ago MrGee bought me a parrot. I named her Sweet-Pea. Oh how I adored her. She loved to sit on my shoulder,cuddle and hide under my hair. She would nibble my ear and kiss me on the cheek. THEN..... one day
she bit me so hard on the finger
. I was mortified and a little scared to interact with her after that!
About a week after the biting incident, my Mom and Dad came to stay. My Dad seemed to take to Sweet-Pea, so I suggested they have her. A week later we delivered Sweet-Pea to my parents.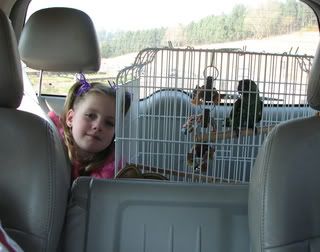 Sweet-Pea ....... became a "he" called Sweetie!
All was well for the first couple of days. She(I mean He) was bought a snazzy ladder and a zooty hide swing. I think he was spoilt rotten. It seems Grandparents don't just do that with grandchildren!! But as my parents soon found out, this bird was one demanding chick!!!!
So..... today after a wonderful holiday with the Grandparents, Sweet-Pea returned home. I realise now that I had missed her loud sqwaaks and funny little noises!
Yes, I will try again. But this time I will be armed with a well padded leather glove!