Last year CoolDude started to complain of sore feet.
I dismissed them as growing pains and told him not to worry as they would go away. He went back to school this year and the complaints become more frequent. I reasured him his feet would eventually get used to the extra sports he was doing and that it was still those pesky growing pains. Then I noticed he was
walking rather strangely
........ so I wisked him off to the Podiatrist!
He has been diagnosed with
Severs Disease
.
"

Sever's disease

is a condition that affects growing adolescents,
usually between the ages of 9 to 14 years old. Adolescents who have Server's
disease experience pain in one or both of their heels when walking.
Sever's disease occurs just before the closing of the heel bone growth plate. At this
time in the child's development, the

Achilles tendon is pulling on the heel bone

with a significant amount of force; this causes increasing tension on the heel
bone.

The result is inflammation where the Achilles tendon attaches to the heel

."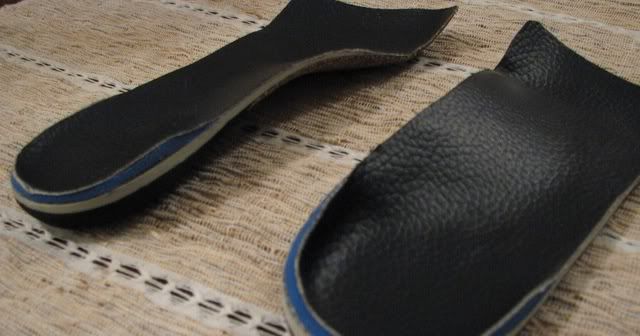 The podiatrist took casts of his feet, and two days ago we received these inner soles which CoolDude slips into his shoes/tackies. I'll let you know on his progress..... but I can vouch for a lot more speed on the tennis court today!
xx