When MrGee comes home from a trip(especially an overseas one), he always returns with such thoughtful gifts for the kids and I. Being a non-working SAHM(Stay At Home Mom), I used to feel guilty that I was not able to reciprocate in the gift giving arena. It made me wonder how I could be a blessing to him in my own special way.
So.................................
I always welcome him home looking as gorgeous as I possibly can! (

hehehe

)
A roast(his absolute favourite) is lovingly prepared with all the extra trimmings.
And I make sure his study/office is neat and well organised.
CoolDude helped me with the final touches to MrGee's study.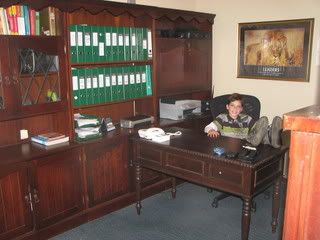 TanziPanzi decorated the walls with her art work. After hanging her masterpieces, she stood back and declared...... "Yip that's good, but Dad looks like a pig!" (Refering to the pig's snout she drew between his eyes.)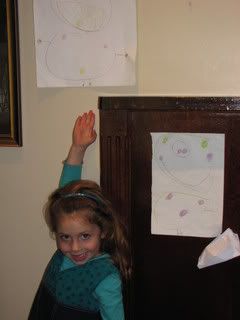 I know MrGee was impressed with his welcome home! So you see ladies, men aren't that hard to please..............
Just delight their eyes
Satisfy their tummies
Try being a little productive!
xx