Our Mozambican gardener,Paul, either has a wonderful sense of humour or a very kitsch taste in garden design!!!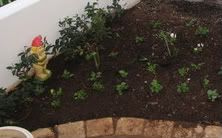 After clearing away a corner near the front door he took it upon himself to try something creative .......... He found this piece of art in the bushes and decided to put her on display!
Gorgeous.... isn't she?